The First Day of  School seems to be the milestone in a student's life. Every student develops a different approach about school, either becoming excited or really apprehensive of the surroundings and the teacher who invades his life. Reading picture books aloud with your child about starting school is a good way to prepare the student to be, for the challenge ahead. Through the stories about School, students start realizing what happens in a school day and what to expect.  So this means less stress and more self-esteem while being away from familiar surroundings.
Once school starts students have to know before hand about that new transition in their life. Activities related to the new program they have to follow every day is a good way to make them feel secure about this new change.
Organisation is another way to make students think of preparing their own bag, take the initiative in doing so, is a major step to become independent and take on responsibility. Organisation is a good example of being taught to deal with school demands in the future, even placing their lunch box is an easy and practical way to have a task to complete.
Thinking of those students with learning difficulties or special needs then both parents and teachers need to work together on an individual learning plan. Teaching charismatic students with Dyslexia, Autism, ADHD, the last ten years, has taught me that the teacher has to comply with the student's existing skills, set realistic goals to make progress happen, and modify the curriculum as many times as it is needed. Reading aloud, incorporating drawing and painting is a good strategy to help the student find his path in the learning process.There are no magic tricks, the teacher has to be aware of the student's strengths and weaknesses and promote reading by choosing specific books that attract his interest.
I hope the new School year brings the best results and that teachers help students to trace their strong points, love books and show their creativity. Till next Rock Post, have a good start, enjoy the books below and have fun at school, all year round!
It's the first day of school at Frederick Douglass Elementary and everyone's just a little bit nervous, especially the school itself. What will the children do once they come? Will they like the school? Will they be nice to him?
The school has a rough start, but as the day goes on, he soon recovers when he sees that he's not the only one going through first-day jitters.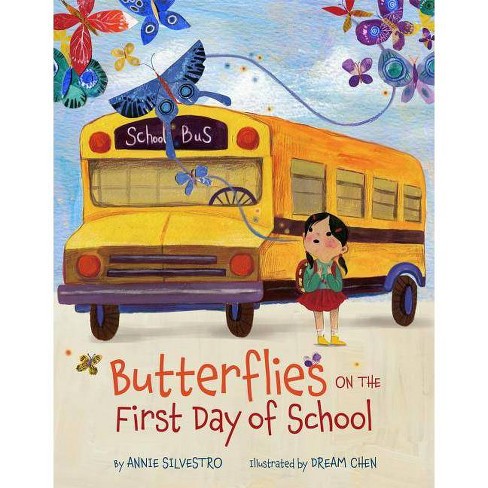 Rosie can't wait to start kindergarten—she's had her pencils sharpened and her backpack ready for weeks. But suddenly, on the night before the big day, her tummy hurts. Rosie's mom reassures her that it's just butterflies in her belly, and she'll feel better soon. Much to Rosie's surprise, when she says hello to a new friend on the bus, a butterfly flies out of her mouth! As the day goes on, Rosie frees all her butterflies, and even helps another shy student let go of hers, too.
A confident little boy takes pride in his first day of kindergarten, by the Newbery Honor-winning author of Crown.
The morning sun blares through your window like a million brass trumpets.It sits and shines behind your head–like a crown. Mommy says that today, you are going to be the King of Kindergarten!
Starting kindergarten is a big milestone–and the hero of this story is ready to make his mark! He's dressed himself, eaten a pile of pancakes, and can't wait to be part of a whole new kingdom of kids. The day will be jam-packed, but he's up to the challenge, taking new experiences in stride with his infectious enthusiasm! And afterward, he can't wait to tell his proud parents all about his achievements–and then wake up to start another day.
Newbery Honor-winning author Derrick Barnes's empowering story will give new kindergarteners a reassuring confidence boost, and Vanessa Brantley-Newton's illustrations exude joy.
Award-winning poet Alexander compares reading a book to peeling the gentle skin of a clementine, digging in to its juiciness, enjoying it "piece by piece, part by part," until you can "watch a novel world unfurl right before your eyes." And who better to illustrate this delicious poem than Caldecott Honoree Sweet. The artwork is done in watercolor, gouache, mixed media, handmade and vintage papers, found objects including old book covers, and a paint can lid. Not a splash of color, a piece of paper, or a line is out of place. Starting with the initial collage that incorporates the building blocks of reading (the letters A to Z) and the lines from a poem by Nikki Giovanni that careful readers will have to pay attention to see, the tone is set. "So get/real cozy/between/the covers/And let your/fingers wonder/as they wander…" for there is much to relish in this poem and its exuberant images. "Squeeze/every morsel/of each plump line/until the last/drop of magic/drips from the infinite sky." The book includes a note from both the poet and the artist. VERDICT A beautiful book not to be rushed through, but to be enjoyed morsel by tasty morsel.
This humorous new book in the beloved HOW TO . . . series takes readers through a fun and busy school year. Written in tongue-in-cheek instructional style, a class of adorable students gives tips and tricks for getting a teacher ready—for the first day of school, and all the events and milestones that will follow (picture day, holiday concert, the 100th day of school, field day!). And along the way, children will see that getting their teacher ready is really getting themselvesready. Filled with charming role-reversal humor, this is a playful and heartwarming celebration of teachers and students, and the perfect gift for back-to-school readiness or graduation.
Spend the day at school and join the little girl in everything she does in a day—from breakfast to bedtime. Meet her classmates and try to spot what each friend is up to in every lesson throughout the book. Can you guess what they want to be when they grow up? This reassuring introduction to the school day for little ones has bright, friendly artwork and is perfect for children about to go off to school for the first time.
National Book Award winner Jacqueline Woodson and two-time Pura Belpré Illustrator Award winner Rafael López have teamed up to create a poignant, yet heartening book about finding courage to connect, even when you feel scared and alone.
There will be times when you walk into a room
and no one there is quite like you.
There are many reasons to feel different. Maybe it's how you look or talk, or where you're from; maybe it's what you eat, or something just as random. It's not easy to take those first steps into a place where nobody really knows you yet, but somehow you do it.
Jacqueline Woodson's lyrical text and Rafael López's dazzling art reminds us that we all feel like outsiders sometimes-and how brave it is that we go forth anyway. And that sometimes, when we reach out and begin to share our stories, others will be happy to meet us halfway.
A delightfully funny story that will reassure every child anxious about starting a new school or nursery.
Bears are clumsy. They don't sit still. They're much, much bigger than teachers – and they eat SUCH a lot of lunch! Yes, taking a bear to school is a BAD idea. But will this little boy find the courage to face the first day of school alone?
With so much to do, like painting, dressing up, storytime, and making new friends, he just might! And Bear? He'll always be waiting at the end of the day, with a great big hug!
In this exuberant companion to If I Built a Car, a boy fantasizes about his dream school–from classroom to cafeteria to library to playground.
My school will amaze you. My school will astound.
By far the most fabulous school to be found!
Perfectly planned and impeccably clean.
On a scale, 1 to 10, it's more like 15!
And learning is fun in a place that's fun, too.
If Jack built a school, there would be hover desks and pop-up textbooks, skydiving wind tunnels and a trampoline basketball court in the gym, a robo-chef to serve lunch in the cafeteria, field trips to Mars, and a whole lot more. The inventive boy who described his ideal car and house in previous books is dreaming even bigger this time.
A warm, welcoming picture book that celebrates diversity and gives encouragement and support to all kids.
Follow a group of children through a day in their school, where everyone is welcomed with open arms. A school where kids in patkas, hijabs, and yarmulkes play side-by-side with friends in baseball caps. A school where students grow and learn from each other's traditions and the whole community gathers to celebrate the Lunar New Year.
All Are Welcome lets young children know that no matter what, they have a place, they have a space, they are welcome in their school.