I felt this new year's coming, is a flower bud ready to blossom for many reasons for all of us around the world. What will surely differentiate this year from the previous one will be your desire to create and inspire more than ever before. I urge you to do so, believing in your instinct so as to become the budding "artist" you were always dreaming of. Winter months are not the flower months but do believe it, budding flowers open their heart once you show how much you love them, that's how my garden roses keep blooming at my house garden in Patras and my village. After reading the above quote I am sure you think, you have to take the initiative and make it happen with your ideas and dreams! inspiration knocks the door in many ways and that's what you need, to use the pencils and colors you have in order to leave your stigma in the world and be the moving force for others to move on in life. My wishes for 2021 have to do with Health, the number one prerequisite to hold on, Persistence and Patience to follow your dreams! Till next month's Rock Post, take care of yourself and enjoy reading books to atrract as more bees as you can to your budding rose, your inner thought!
Inspired by Wassily Kandinsky's 1940 painting, Sky Blue, this delightful children's book delves into the kaleidoscopic mind of a sleeping giant. Author Ve ronique Massenot and illustrator Peggy Nille interpret Kandinsky's abstract characters as the somnolent visions of a giant who stumbles into a village of microscopic townspeople. Though the villagers initially fear the enormous stranger, they soon discover a gentle soul through his beautiful dreams. With its brightly colored palette and playful drawings, this wonderfully imaginative book echoes Kandinsky's lively style. As young readers explore the wonders of the miniature villagers' world and the colossal giant's imagination, they will be inspired to find their own way around Kandinsky's enigmatic masterpiece.
There is no single masterpiece in art galleries or with people―we're all works of art in our own special way!
Our skin tones might all vary;
we're every shade and hue.
Some people think we look surreal,
and frankly, yes, we do!
But we can make you tilt your head,
and see the world anew.
Pairing bright and engaging illustrations with relatable rhymes, this beautiful hardbound book celebrates diversity while teaching kids about different styles of art: from prehistoric cave art to surrealism, cubism, pop art, and contemporary art.
Includes an appendix that provides brief descriptions of different art styles along with mentions of their most significant works and practitioners to encourage further exploration, including:
Stonehenge
the bust of Nefertiti
Leonardo da Vinci
Henri Matisse
Joan Miró
Rene Magritte
Roy Lichtenstein
Pauline Boty
Rachel Whiteread
Steve McQueen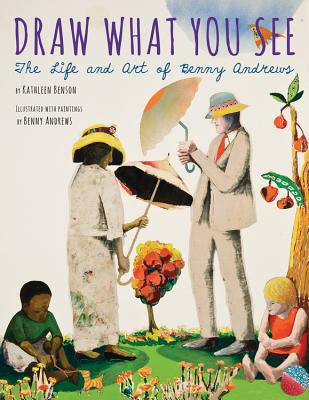 Benny Andrews loved to draw. He drew his nine brothers and sisters, and his parents. He drew the red earth of the fields where they all worked, the hot sun that beat down, and the rows and rows of crops. As Benny hauled buckets of water, he made pictures in his head. And he dreamed of a better life—something beyond the segregation, the backbreaking labor, and the limited opportunities of his world. Benny's dreams took him far from the rural Georgia of his childhood. He became one of the most important African American painters of the twentieth century, and he opened doors for other artists of color. His story will inspire budding young artists to work hard and follow their dreams.
Growing up in the mountains of Japan, Yayoi Kusama (b. 1929) dreamed of becoming an artist. One day, she had a vision in which the world and everything in it—the plants, the people, the sky—were covered in polka dots. She began to cover her paintings, drawings, sculptures, and even her body with dots. As she grew up, she traveled all around the world, from Tokyo to Seattle, New York to Venice, and brought her dots with her. Different people saw these dots in different ways—some thought they were tiny, like cells, and others imagined them enormous, like planets. Every year, Kusama sees more of the world, covering it with dots and offering people a way to experience it the way she does.
Written by Sarah Suzuki, a curator at The Museum of Modern Art, and featuring reproductions of Kusama's instantly recognizable artworks, this colorful book tells the story of an artist whose work will not be complete until her dots cover the world, from here to infinity.
A boy takes on a community art project in order to make his neighborhood more beautiful in this empowering and inspiring picture book by Susan Verde, stunningly illustrated by award-winning artist John Parra.
One creative boy.
One bare, abandoned wall.
One BIG idea.
There is a wall in Ángel's neighborhood. Around it, the community bustles with life: music, dancing, laughing. Not the wall. It is bleak. One boy decides to change that. But he can't do it alone.
Told in elegant verse by Susan Verde and vibrantly illustrated by John Parra, this inspiring picture book celebrates the power of art to tell a story and bring a community together.
One day, the French artist Henri Matisse cut a small bird out of a piece of paper. It looked lonely all by itself, so he cut out more shapes to join it. Before he knew it, Matisse had transformed his walls into larger-than-life gardens, filled with brightly colored plants, animals, and shapes of all sizes! Featuring cut-paper illustrations and interactive foldout pages, Matisse's Garden is the inspiring story of how the artist's never-ending curiosity helped turn a small experiment into a radical new form of art.
One late spring morning the American artist Jackson Pollock began work on the canvas that would ultimately come to be known as Number 1, 1950 (Lavender Mist).
Award-winning authors Jan Greenberg and Sandra Jordan use this moment as the departure point for a unique picture book about a great painter and the way in which he worked. Their lyrical text, drawn from Pollock's own comments and those made by members of his immediate circle, is perfectly complemented by vibrant watercolors by Robert Andrew Parker that honor his spirit of the artist without imitating his paintings.
A photographic reproduction of the finished painting, a short biography, a bibliography, and a detailed list of notes and sources that are fascinating reading in their own right make this an authoritative as well as beautiful book for readers of all ages.
Action Jackson is a Sibert Honor Book, a New York Times Best Book of the Year, and a Publishers Weekly Best Book of the Year.
We all remember what it was like to be a child in a crowded art museum. It was hard to see, let alone appreciate the art. It got tiring. And there was so much else to look at! That's the lesson of this ingeniously simple yet profound book about art. It is everywhere-from another visitor's elaborate tattoos to the way the sun makes patterns of light on the floor. While other visitors are busy trying to find their way through the museum's galleries, or fighting for room to view a masterpiece, our hero examines the gallery upside down from a bench, plays with his shadow, and makes friends with the custodian. With a wink and a nod to serious museum-goers everywhere, Joanne Liu's whimsical illustrations remind us that sometimes the best kind of art is the kind you make yourself.
From Matthew Burgess, the much-acclaimed author of Enormous Smallness, comes Drawing on Walls: A Story of Keith Haring. Often seen drawing in white chalk on the matte black paper of unused advertising space in the subway, Haring's iconic pop art and graffiti-like style transformed the New York City underground in the 1980s. A member of the LGBTQ community, Haring died tragically at the age of thirty-one from AIDS-related complications. Illustrated in paint by Josh Cochran, himself a specialist in bright, dense, conceptual drawings, this honest, celebratory book honors Haring's life and art, along with his very special connection with kids.
"Burgess describes Haring discovering Robert Henri's The Art Spirit in college ("He felt as if the book was speaking directly to him"), encountering the large paintings of Pierre Alechinsky (he was "blown away"), and recognizing a common impulse in dancers at the West Village's Paradise Garage ("For Keith, drawing and painting were like dancing. He called it 'mind-to-hand flow'"). Cochran uses a thick black line to suggest Haring's creations, and renders figures in a Haring-esque style without seeming gimmicky. Of interest to young readers are Haring's frequent efforts to involve children in mural-making projects. The story, including a respectful acknowledgement of Haring's death from AIDS, makes the subject seem immediate and real—and presents a compelling vision of answering the call to create." —Starred Review, Publishers Weekly.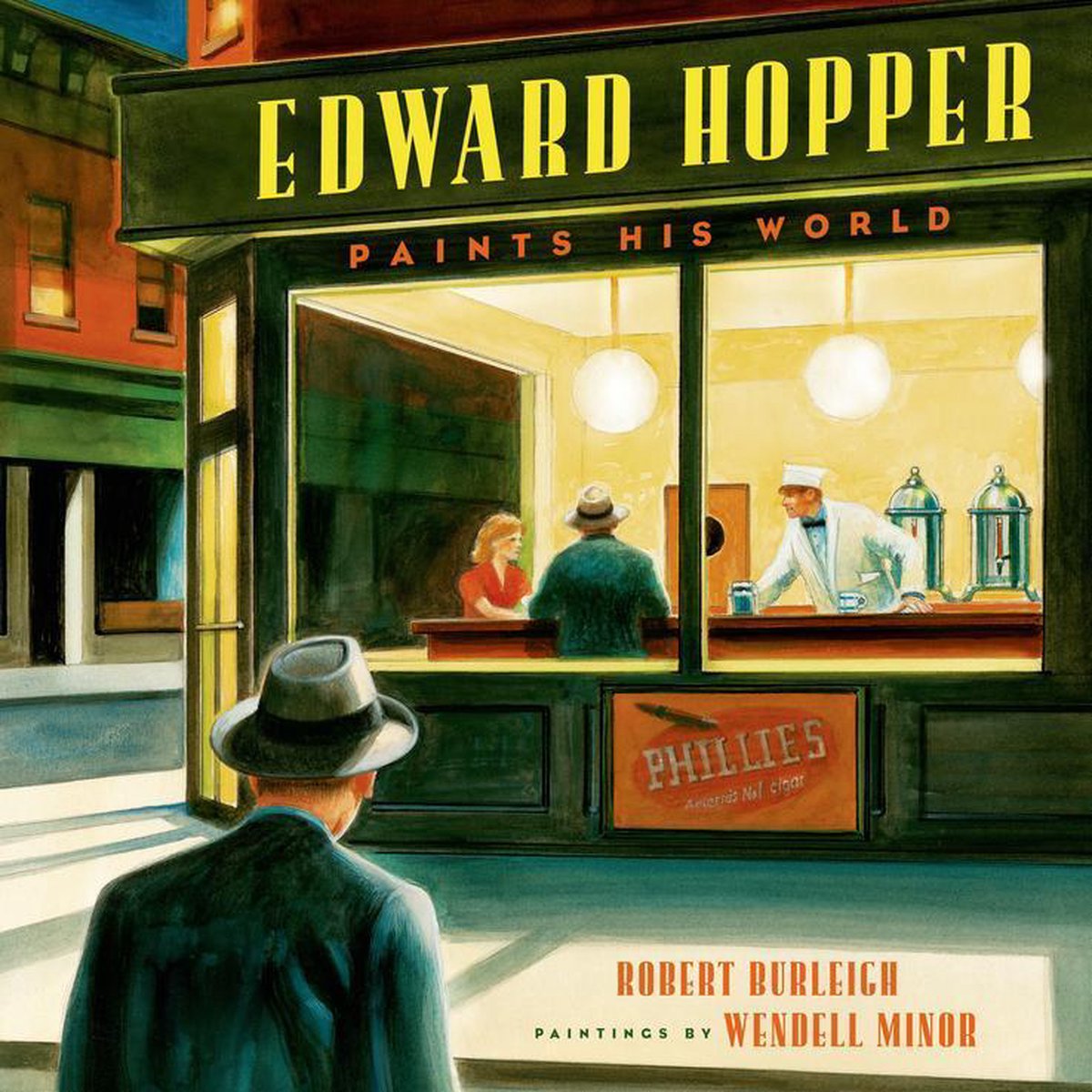 As a boy, Edward Hopper knew exactly what he wanted to be when he grew up: on the cover of his pencil box, he wrote the words EDWARD HOPPER, WOULD-BE ARTIST. He traveled to New York and to Paris to hone his craft. And even though no one wanted to buy his paintings for a long time, he never stopped believing in his dream to be an artist. He was fascinated with painting light and shadow and his works explore this challenge.
Edward Hopper's story is one of courage, resilience, and determination. In this striking picture book biography, Robert Burleigh and Wendell Minor invite young readers into the world of a truly special American painter (most celebrated for his paintings "Nighthawks" and "Gas").
Frida Kahlo and Her Animalitos, written by Monica Brown and illustrated by John Parra, is based on the life of one of the world's most influential painters, Frida Kahlo, and the animals that inspired her art and life.
The fascinating Mexican artist Frida Kahlo is remembered for her self-portraits, her dramatic works featuring bold and vibrant colors. Her work brought attention to Mexican and indigenous culture and she is also renowned for her works celebrating the female form.
Brown's story recounts Frida's beloved pets—two monkeys, a parrot, three dogs, two turkeys, an eagle, a black cat, and a fawn—and playfully considers how Frida embodied many wonderful characteristics of each animal.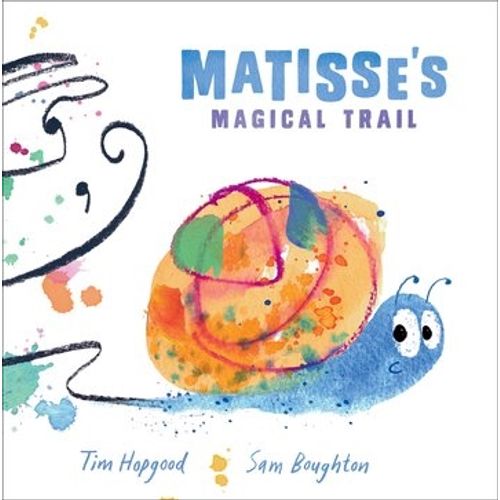 A beautiful, colourful and bold picture book that encourages children to notice the small things, think big, and express themselves! Matisse is a young snail who loves to create beautiful drawings with his trail. The trouble is most of the time people are far too busy to even notice them. It's only when a child notices Matisse's beautiful trails that his art is finally celebrated – and they inspire a whole class of children to get creative too!
Step into the colorful world of Henri Matisse and his magnificent paper cutouts in this biography by acclaimed picture book creator Jeanette Winter.
In a small weaving town in France, a young boy named Henri-Emile Matisse drew pictures everywhere, and when he grew up, he moved to Paris and became a famous artist who created paintings that were adored around the world. But late in life a serious illness confined him to a wheelchair, and amazingly, it was from there that he created among his most beloved works–enormous and breathtaking paper cutouts.
Based on the life of Henri Matisse, this moving and inspirational picture book biography includes a note from the author, dynamic quotes from Matisse himself, and an illuminating look at a little-known part of a great artist's creative process.