Mother's Day! Love your mothers and listen to them, they do know better than you think! Greek moms are a real hurricane! Their love is uncompromising and they are so caring like mothers around the globe. The mentality of a Greek mother is expressed in the following humorous but so truthful sayings that kids are fed up to hear but always remember as time goes by!
Enjoy the way the Greek mum shows their affection, love, and endless support to their kids no matter their age! Here are some for you! https://greekreporter.com/2021/05/09/greek-mother-sayings/ Till next time's Rock Post, LOVE your mothers and think of them often!
1. "If you do/say this again I'll have a heart attack!"
– Because guilt is best used by Greek mothers…
2. "There is no 'why'! It's because I said so."
– She's right, she's your mother…
3. "Wear a clean pair of underwear. Should you get injured and brought to the hospital, what would the nurses say?"
– They wouldn't pay attention to the blood and to the fact that you're dying, but they will notice your dirty underwear. But, who knows, one of the nurses may become your future wife…
4. "You're like your father."
– He's to blame for everything bad that happens, including a possible alien invasion…
5. "Do you know what time you came home last night?"
– Of course, your Greek mother sure does!
6. "Won't you become a father one day? I hope your children will do to you the same things you've done to me."
– Family justice must be served…
7. "Stop walking barefoot on the floor or you'll get a cold."
– Every Greek mother has graduated from med school and everyone in the house knows that…
8. "Go on grouching and you'll see what will happen. I brought you into this world, and I can kill you."
– Careful — she really feels she is within her rights!
9. "When I was your age, I had already two children."
– When she was your age, it was 1960 – Kennedy was alive, and Elizabeth was still Queen of England. Things have changed. Well, almost changed…
10. "Call your aunt, it's her birthday today."
– A Greek mother always pays attention to events Which could upset the family harmony and will instruct you to call, even if you only speak to your aunt once a year on her birthday.
I Carry Your Heart With Me is a children's adaptation of the beloved E. E. Cummings poem, beautifully illustrated by Mati Rose McDonough. Showing the strong bond of love between mother and child, within nature and throughout life, Cummings' heartfelt words expressed through McDonough's lovely illustrations combine to create a fresh, yet classic, the portrayal of love. First published by Liveright Publishing in 1952 in Complete Poems: 1904-1962 by E. E. Cummings, as [i carry your heart with me (i carry it in], "I Carry Your Heart With Me" has become a classic and very popular poem over the years. McDonough's illustrations provide a new artistic interpretation of this familiar poem.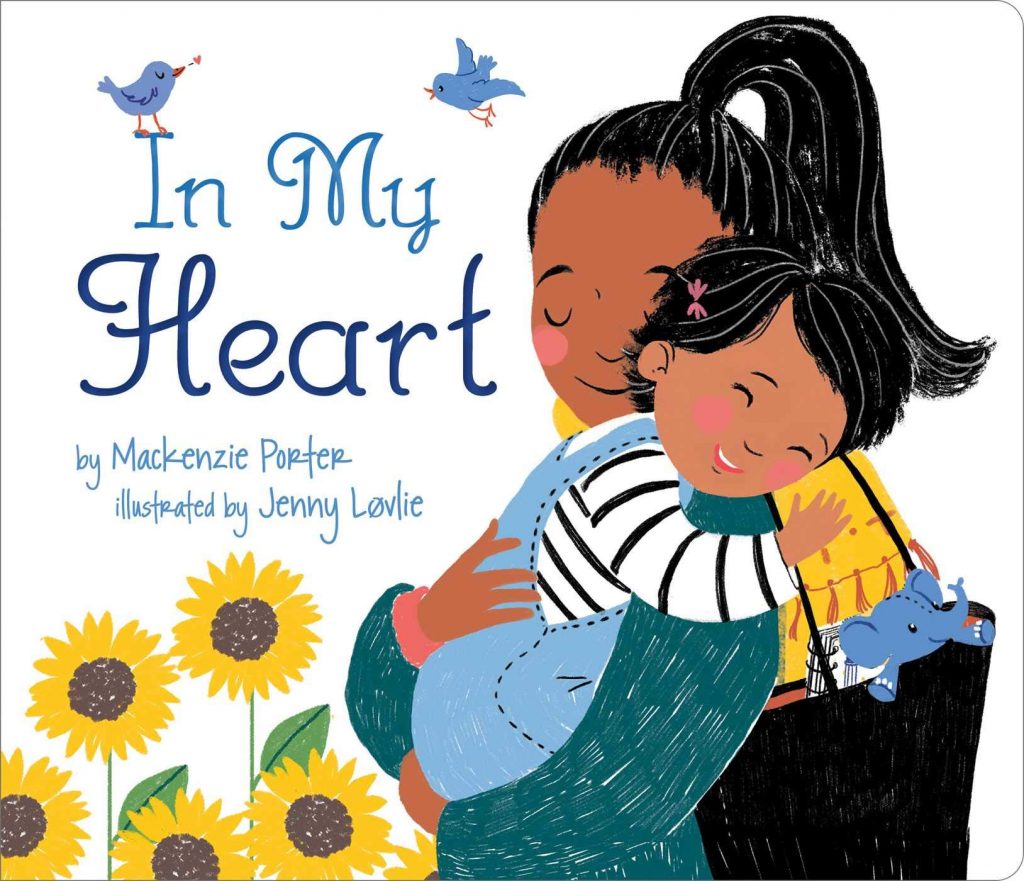 A working mother reassures her child that even when they're apart, they're always in each other's hearts. This lovely board book is perfect for moms to share with their little ones.

Though we're not together
we're never truly apart,
because you're always on my mind
and you're always in my heart.

This is what a mother tells her child as she leaves for work each day. This lovely board book perfectly captures the sentiment that many women feel about being a working mom. The lyrical text takes us through a mother's day away, showing us that although she's working hard, her child is always on her mind and always in her heart.
A young girl is torn by her desire to stay home with her family and the familiarity of their village, and her desire to go to school and discover the world beyond the mountains that surround them. Every time the girl insists that she will stay, her mother repeats that she must go―that there is more to life than labor in the coffee fields. Their loving exchange reveals the struggles and sacrifices that they will both have to make for the sake of the young girl's future. The sweet, simple text captures a mother's love and her wish for a life of opportunity for her daughter.
During a visit to her grandma s house, a young girl discovers a box of poems in the attic, poems written by her mother when she was growing up. Her mother s family often moved around the United States and the world because her father was in the Air Force. Over the years, her mother used poetry to record her experiences in the many places the family lived. Reading the poems and sharing those experiences through her mother s eyes, the young girl feels closer to her mother than ever before. To let her mother know this, she creates a gift: a book with her own poems and copies of her mother s. And when she returns her mother s poems to the box in the attic, she leaves her own poems too, for someone else to find, someday. Using free verse for the young girl s poems and tanka for her mother s, master poet Nikki Grimes creates a tender intergenerational story that speaks to every child s need to hold onto special memories of home, no matter where that place might be.
A young child asks his mother to tell the story of where he came from. I might tell how you came from a land far away in a hot air balloon. The basket slowly drifted down like a feather into our yard. I dropped the firewood I was carrying and ran to you. You re home now, I said. Or maybe it was a lark and not a stork that brought the child to the mother. Or perhaps he was rescued from a dragon! Each lyrical and fantastic tale contains a small kernel of truth that pieces together the baby s journey across a wide ocean into his new mother's arms. Beautifully illustrated by Jessica Lanan, The Story I'll Tell is a gentle and moving story of adoption and parental love that is sure to touch the hearts of readers everywhere, no matter how they came to be a family.
"A tender knockout. It's rare to find much vitality, spontaneity, and depth of feeling in such a simple, young book."—Kirkus Reviews
Vera Williams tells of a young girl who, along with her waitress mother, saves coins in a big jar in hopes that they can someday buy a new chair for their apartment, the kind of chair her mother deserves after being on her feet all day in the Blue Tile Diner. Into the jar also goes the money Grandma saves whenever she gets a bargain at the market.
There hasn't been a comfortable place to sit in the apartment since a fire in their previous apartment burned everything to "charcoal and ashes." Friends and neighbors brought furniture to their new apartment downstairs, but no one brought anything big or soft or comfortable. Finally the jar is full, the coins are rolled, and in the book's crowning moment, mother, daughter, and Grandma search four different furniture stores, and after carefully trying several chairs, like Goldilocks, they find the chair they've been dreaming of at last.
Vera Williams enhances this story about family, community, and the power of working together toward a common goal with her signature folk art-inspired paintings.
A Chair for My Mother has sold more than a million copies and is an ideal choice for reading and sharing at home and in the classroom. "A superbly conceived picture book expressing the joyful spirit of a loving family."—The Horn Book
The sun rises, and a bear and cub begin their day together. They splash in the water, climb mountains, watch the colorful lights in the shimmering sky, and play with friends. They show their love for each other by touching noses, chasing each other, and, of course, hugging and snuggling before bed. A sweet, gentle rhyme, perfect for sharing with a special little one that also includes a "To" and "From" personalization page in the front of the book, making this heartwarming book an ideal gift.
Celebrate Mom's special day with The Very Hungry Caterpillar in this colorful book featuring Eric Carle's joyful illustrations.
Show Mom just how much she means with this colorful book from the World of Eric Carle. Join The Very Hungry Caterpillar as he honors Mother's Day and celebrates incredible parents everywhere. With joyful illustrations and colorful creatures, this charming keepsake is a great way to show parents, grandparents, soon-to-be mothers, aunts, friends, or whomever you call Mom just how much you care.