Enjoy a book that celebrates colors as a part of Indian culture and Holi celebration, written by Shoumi Sen & illustrated by Abira Das!
Holi, the Festival of Colors is here, marking the arrival of Spring! Step into this book and watch Riya and her friends immerse everyone in a spectacular carnival of colors, while learning the story of Prahlad and why we celebrate Holi! 'Celebrate Holi With Me!' is part of the series 'From The Toddler Diaries' and celebrates Holi as experienced by 3 year old Riya. Presented in poetry and color, 'From The Toddler Diaries' is designed to drape parents and children in vivid hues of India's cultural fabric.
Dol Jatra, Phagwah or Fagu
Call Holi what you may,
Old or young, boy or girl, all together we play!
Have you ever thought of a greater way to welcome spring than Holi? Well, you haven't! The best moments of joy for kids and adults alike is to celebrate this fantastic festival and discover the importance of its origin in the Indian Culture. As well as experience unforgettable moments while playing with colors and feel the true menaing of joy, unleashing imagination, too! Kids will get excited with the rhymimng couplets and of course the illutrations which evoke so much color and fun! The Toddler Dictionary is a great idea to help kids to learn new Indian words and discover their own culture in an enjoyable way!
There are so many fabulous activities to follow for your kids and students so the get acquainted with the Holi celebration that I am sure you will enjoy it up to the most!
What is Holi?
Holi, is a religious spring festival celebrated by Hindus. It is a festival celebrated with colour, water and the exchange of sweets and is primarily observed in India, Nepal, Pakistan, and countries with a large Indian population that follow Hinduism.Holi is celebrated by people throwing scented powder and colored water at each other. Bonfires are lit on the eve of the festival, also known as Holika Dahan (burning of Holika) or Chhoti Holi (little Holi), after which Holika Dahan prayers are said and prasad is offered.Holi is celebrated at the end of the winter season on the last full moon day of the lunar month Phalguna (February/March), on a full moon night, which usually falls in the later part of March.Holi is usually celebrated in March and signals the coming of spring in India, it commemorates the good harvests and the fertile land. It's the start of new hopes and relationships, signified through the burst of colors everywhere. https://artsycraftsymom.com/holi-crafts-and-activities-for-kids/#What_is_Holi
Teachers brighten your students' day with printables, puzzles, worksheets, crafts, colouring pages on this amazing site: https://www.activityvillage.co.uk/holi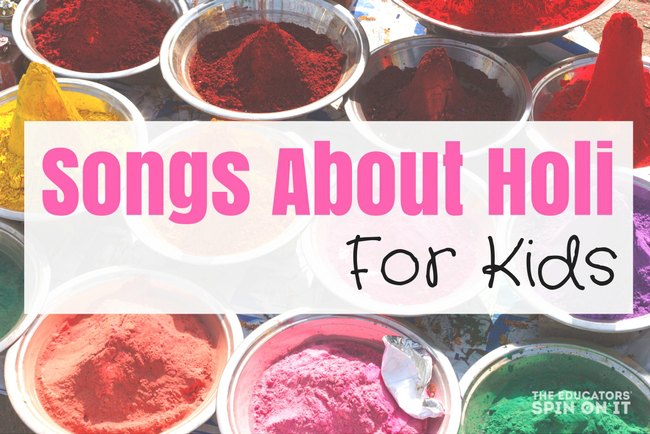 AUTHOR'S BIO
Shoumi Sen is a Strategy, Sales and Marketing professional at a leading global energy management company. She studied engineering at BITS Pilani and The University of Maryland, College Park, and lives in Los Angeles with her husband and daughter. Her childhood in Paris, Bombay and Dubai provided her with opportunities to appreciate how Indians preserve a connection to their culture even while living abroad. In Shoumi's words, "Living outside India, it is sometimes challenging for parents to ensure that their children remain connected to their Indian roots, while at the same time, appreciating the culture of the place they are growing up in. Books can certainly help with that challenge and my hope is that the series 'From The Toddler Diaries' can play a part in helping our children grow into global citizens."When not working or writing, she is always looking for the next travel destination with her family!
You can find Shoumi on: https://www.facebook.com/FromTheToddlerDiaries/
https://www.instagram.com/fromthetoddlerdiariesbooks/
Multicultural Children's Book Day 2021 (1/29/21) is in its 8th year! This non-profit children's literacy initiative was founded by Valarie Budayr and Mia Wenjen; two diverse book-loving moms who saw a need to shine the spotlight on all of the multicultural books and authors on the market while also working to get those book into the hands of young readers and educators. Eight years in, MCBD's mission is to raise awareness of the ongoing need to include kids' books that celebrate diversity in homes and school bookshelves continues. Read about our Mission & History HERE.
MCBD 2021 is honored to be Supported by these Medallion Sponsors!
FOUNDER'S CIRCLE: Mia Wenjen (Prgamaticmom) and Valarie Budayr's (Audreypress.com)
Platinum Sponsors: Language Lizard Bilingual Books in 50+ Languages, Author Deedee Cummings and Make A Way Media
Gold Sponsors: Barefoot Books, Candlewick Press, Capstone, Hoopoe Books, KidLitTV, Peachtree Publishing Company Inc.
Silver Sponsors: Charlotte Riggle, Connecticut Association of School Librarians, Author Kimberly Gordon Biddle, Pack-N-Go Girls
Bronze Sponsors: Agatha Rodi and AMELIE is IMPRESSED!, Barnes Brothers Books, Create and Educate Solutions, LLC, Dreambuilt Books, Dyesha and Triesha McCants/McCants Squared, Redfin Real Estate, Snowflake Stories, Star Bright Books, TimTimTom Bilingual Personalized Books, Author Vivian Kirkfield, Wisdom Tales Press,
MCBD 2021 is honored to be Supported by these Author Sponsors!
Poster Artist: Nat Iwata
Authors: Author Afsaneh Moradian, Author Alva Sachs & Three Wishes Publishing Company, Author Angeliki Stamatopoulou-Pedersen, Author Anna Olswanger, Author Casey Bell , Author Claudine Norden, Author Debbie Dadey, Author Diana Huang & Intrepids, Author Eugenia Chu & Brandon goes to Beijing, Green Kids Club, Author Gwen Jackson, Author Janet Balletta, Author Josh Funk, Author Julia Inserro, Karter Johnson & Popcorn and Books, Author Kathleen Burkinshaw & The Last Cherry Blossom, Author Keila Dawson, Maya/Neel Adventures with Culture Groove, Author Mia Wenjen, Michael Genhart, Nancy Tupper Ling, Author Natalie Murray, Natalie McDonald-Perkins, Author Natasha Yim, Author Phe Lang and Me On The Page Publishing,Sandra Elaine Scott, Author Shoumi Sen & From The Toddler Diaries, SISSY GOES TINY by Rebecca Flansburg and B.A. Norrgard, Susan Schaefer Bernardo & Illustrator Courtenay Fletcher, Tales of the Five Enchanted Mermaids, Author Theresa Mackiewicz, Tonya Duncan and the Sophie Washington Book Series, Author Toshia Stelivan, Valerie Williams-Sanchez & The Cocoa Kids Collection Books©, Author Vanessa Womack, MBA, Author Veronica Appleton & the Journey to Appleville book series
MCBD 2021 is Honored to be Supported by our CoHosts and Global CoHosts!
MCBD 2021 is Honored to be Supported by these Media Partners!
Check out MCBD's Multicultural Books for Kids Pinterest Board!
FREE RESOURCES from Multicultural Children's Book Day
Diversity Book Lists & Activities for Teachers and Parents
Homeschool Diverse Kidlit Booklist & Activity Kit
FREE Teacher Classroom Activism and Activists Kit
FREE Teacher Classroom Empathy Kit
FREE Teacher Classroom Kindness Kit
FREE Teacher Classroom Physical and Developmental Challenges Kit
FREE Teacher Classroom Poverty Kit
FREE Diversity Book for Classrooms Program
TWITTER PARTY! Register here!
Join us on Friday, Jan 29, 2021, at 9 pm EST for the 8th annual Multicultural Children's Book Day Twitter Party!
This epically fun and fast-paced hour includes multicultural book discussions, addressing timely issues, diverse book recommendations, & reading ideas.
We will be giving away an 8-Book Bundle every 5 minutes plus Bonus Prizes as well! *** US and Global participants welcome. **
Follow the hashtag #ReadYourWorld to join the conversation, connect with like-minded parts, authors, publishers, educators, organizations, and librarians. See you all very soon on Twitter!
Hashtag: Don't forget to connect with us on social media and be sure and look for/use our official hashtag #ReadYourWorld