Spring sun infuses life to all of us, sentiments of joy and fun! New born life blooms all around us filling the places with a buzzing tranquillity. Bees and butterflies remind us of how busy life can be in nature's cycle and how wonderfully this cycle goes around season by season, year by year. After a harsh winter from many aspects now I got my strength back to write my RockPost for the month of April. Writing on a blog is a great commitment and involves careful planning. Thinking of how life can change in a matter of days, I decided that what is the most important thing to do is to simply ponder what I should do! What I am told the last month or so, is to Relax and Take a breath! No chance for the second. I will be luckier next month regarding the first one, I guess. Nature is the best medicine when life's cycle in real life seems to need that break. Especially kids, after being enclosed inside somany months need to enjoy nature and what is the best way for that? Gardening is the keyword.
If grasshoppers of any kind jump on your hands, hair or scare the wits out of you, well be open to possibilities, my little gardeners! Life is a journey full of surprises and getting to know plants, insects is a good way to get rid of your tablets and video games! You may scream at the top of your lungs and dance furiously because of the unknown visitor but still see the funny side of things. Check here: Quick Growing Seeds for Flowers and Vegetables to Grow with Kids
https://rainydaymum.ac.uk https://rainydaymum.co.uk/gardening-with-kids/
Gardens is the best place to be surrounded by smells and plant fresh seeds or take care of the season's plants and flowers. Be the reason for helping to this season's blooming! Grab one of the following books outdoors, and read to flowers and trees. Your words will have that magic spell to make your garden and nature feel your inner power for change and beauty. Till next time's RockPost enjoy your stay!
Seed is Sleepy is an artistic, "contemplative" (School Library Journal) title about the somewhat anthropomorphized qualities of seeds, (sleepy, adventurous, naked…) Each spread is devoted to a specific quality, with a short phrase like "A seed is sleepy", a few paragraphs of text explaining why this is the case, and richly detailed sketches.
School Library Journal ended their starred review of this book by saying, "this book is a wonderful addition to units that focus not only on seeds and plants, but also on writing and the language arts." Indeed, this book would be a fantastic jumping off point for an activity that mixes creative writing and art with science.
Packed with more than 1,000 incredible images and full of fascinating facts, this beautiful children's book takes you on an exciting expedition through the wonders of the plant kingdom.
Explore the incredible world of plants, from the smallest seeds to the tallest trees. Find out about the weirdest, smelliest, and deadliest flowers. Which plants eat insects? How do cacti store water? What flower looks like a bee? Where is the tallest tree in the world? Trees, Leaves, Flowers & Seeds explores the mysterious world of plants to find the answers to these and many more questions.
Each type of plant – such as a flowering plant, a tree, a grass, or cactus – is examined close-up, with examples shown from all angles and in cross-section. Picture-filled galleries also show the wonderful variety of plants on different themes, from the habitats they grow in to the plants that supply us with our staple foods. But Trees, Leaves, Flowers & Seeds also takes a fun, more sideways look at some truly strange plants, such as trees with fruits like a giant's fingers, orchids that look like monkey faces, seeds that spin like helicopters, and trees that drip poison.
So open this amazing book and find out more about the world of trees, leaves, flowers, and seeds.
Bees, beetles, bugs, butterflies and more – love them or hate them insects are everywhere. Discover the different varieties, body-structure, life cycles, and behaviour – from why bees make honey to which insects have ears on their knees with DK Eyewitness Insects.
Find out what the earliest insects looked like, how insects fly, and what a wasp's-eye-view looks like. Learn how insects, often seen as pests by humans, perform a vital role as pollinators of food crops. DK Eyewitness Insects also includes a giant fold-out wall chart full of facts, perfect for bedrooms or classrooms.
With incredible photographs including dueling stag beetles locked in combat, a wasps' nest under construction, and an adult damselfly emerging from its old skin children will be fascinated by this world of creepy crawlies.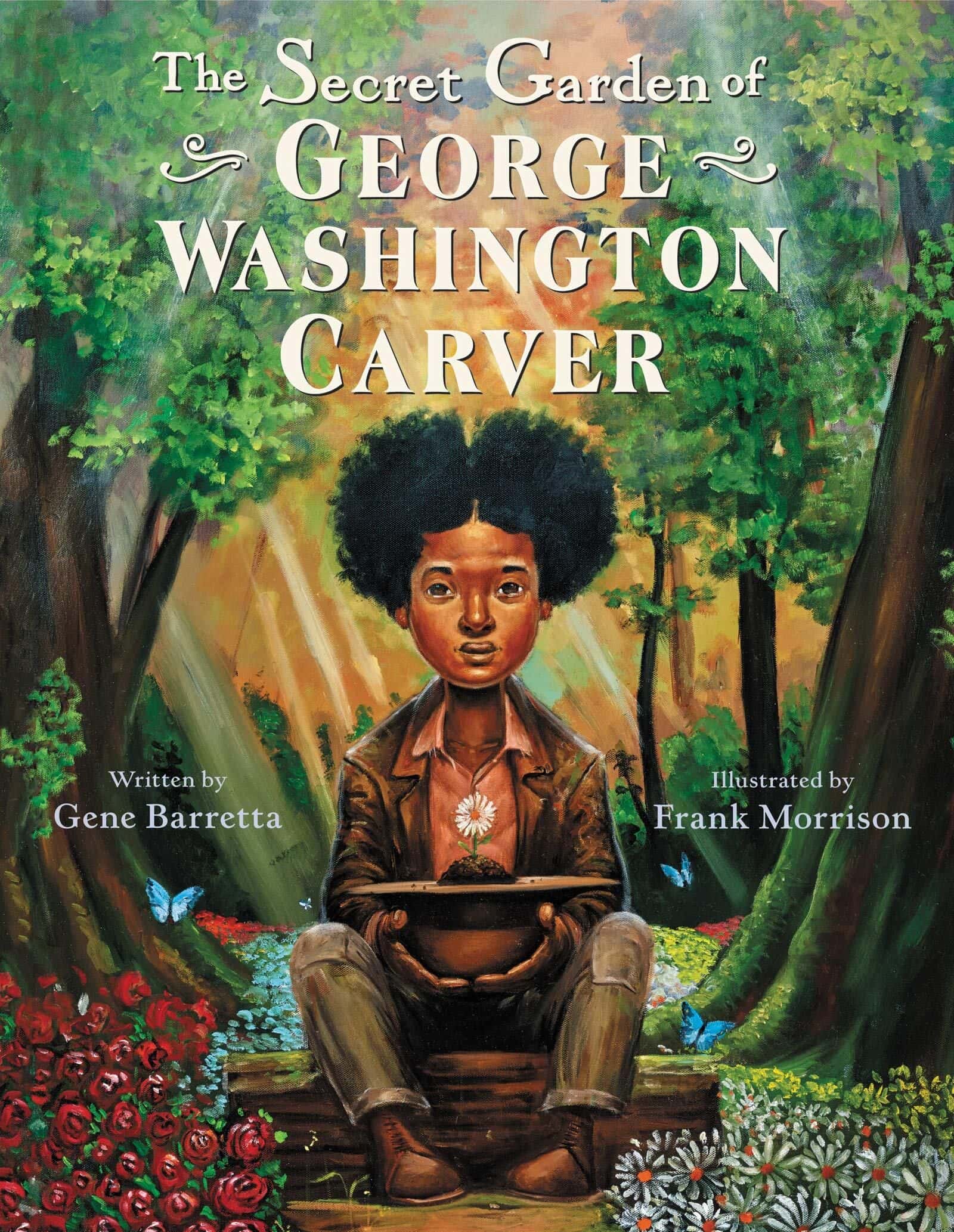 The inspirational story of George Washington Carver and his childhood secret garden is brought to life in this picture book biography by the author-illustrator team behind Muhammad Ali: A Champion Is Born. This nonfiction picture book is an excellent choice to share during homeschooling, in particular for children ages 4 to 6. It's a fun way to learn to read and as a supplement for activity books for children.
When George Washington Carver was just a young child, he had a secret: a garden of his own.
Here, he rolled dirt between his fingers to check if plants needed more rain or sun. He protected roots through harsh winters, so plants could be reborn in the spring. He trimmed flowers, spread soil, studied life cycles. And it was in this very place that George's love of nature sprouted into something so much more–his future.
Gene Barretta's moving words and Frank Morrison's beautiful paintings tell the inspiring life and history of George Washington Carver, from a baby born into slavery to celebrated botanist, scientist, and inventor. His passion and determination are the seeds to this lasting story about triumph over hardship–a tale that begins in a secret garden.
In the orchard
a honey bee buzzes.
Its legs brush pollen
inside a fragrant
pink flower:
A small green fruit
begins to grow
and grow and grow….
Peaches and peas
and even peanuts —
they all begin with
a single flower:
How?
Open this book
and find out!
Roses are red,
Violets are blue…
And they're only two of the flowers in this book of bright colors and delightful information. Young readers will be fascinated to find out what flower can be used to make a doll, which flower flavors tea, and which flower farmers feed to chickens.
Author Jerry Pallotta and illustrator Leslie Evans have collaborated to produce a stunning bouquet of words and pictures about the world of flowers–one of nature's most beautiful gifts.
Tree of Life: World of the African Baobab
A lavishly illustrated look at the stately and unique African baobab tree, which can live over 1000 years, grow 60 feet tall and 40 feet wide, and looks as if it was planted upside down! This title depicts not only the stages of growth and other details about the tree, but also its interactions with the surrounding environment.
GOLD Winner of the Junior Design Awards in the Best Designed/Illustrated Book for Children category
What does a venus fly trap eat?
How strong is a giant water lily?
Does a cactus flower?
The newest addition to Yuval Zommer's bestselling series answers these questions and more as it introduces young children to all kinds of colourful, carnivorous, weird and wonderful flowering plants from around the world. It opens with introductory spreads on how to be a botanist; how to recognise different types of flowers; the life-cycle of a plant; flower anatomy; and the seven types of animal pollinators including bats, birds and beetles. Subsequent spreads, illustrated within various habitats, are dedicated to specific varieties of plants, including the carnivorous venus flytrap, the giant water lily and the weird and wonderful corpse flower. Readers will enjoy learning about different edible flowers and why flowers are fragrant or colourful, not to mention grisly details about carnivorous and poisonous flowers.