A belated summer list for books related to the environment to initiate your kid in reading about the sea and nature. Enjoy this Rockpost and wait for more during summer! We are busy bees around many things! See yaa!!
The Dark Blue Sea! by George Byron
There is a pleasure in the pathless woods,
There is a rapture on the lonely shore,
There is society where none intrudes,
By the deep sea, and music in its roar:
I love not man the less, but nature more,
From these our interviews, in which I steal
From all I may be, or have been before,
To mingle with the universe, and feel
What I can ne'er express, yet cannot all conceal.-
Roll on, thou deep and dark blue ocean-roll!
Ten thousand fleets sweep over thee in vain;
Man marks the earth with ruin-his control
Stops with the shore;-upon the watery plain
The wrecks are all thy deed, nor doth remain
A shadow of man's ravage, save his own,
When for a moment, like a drop of rain,
He sinks into thy depths with bubbling groan,
Without a grave, unknell'd, uncoffin'd, and unknown.
His steps are not upon thy paths-thy fields
Are not a spoil for him-thou dost arise
And shake him from thee; the vile strength he wields
For earth's destruction thou dost all despise,
Spurning him from thy bosom to the skies,
And send'st him, shivering in thy playful spray,
And howling, to his gods, where haply lies
His petty hope in some near port or bay,
And dashest him again to earth: there let him lay.
The armaments which thunderstrike the walls
Of rock-built cities, bidding nations quake,
And monarchs tremble in their capitals,
The oak leviathans, whose huge ribs make
Their clay creator the vain title take
Of lord of thee, and arbiter of war;
These are thy toys, and, as the snowy flake,
They melt into thy yeast of waves, which mar
Alike the armada's pride, or spoils of Trafalgar.
Thy shores are empires, changed in all save thee-
Assyria, Greece, Rome, Carthage, what are they?
Thy waters washed them power while they were free,
And many a tyrant since: their shores obey
The stranger, slave or savage; their decay
Has dried up realms to deserts:-not so thou,
Unchangeable, save to thy wild waves' play-
Time writes no wrinkle on thine azure brow-
Such as creation's dawn beheld, thou rollest now.
Thou glorious mirror, where the Almighty's form
Glasses itself in tempests; in all time
Calm or convulsed-in breeze, or gale, or storm,
Icing the pole, or in the torrid clime
Dark-heaving; boundless, endless and sublime-
The image of eternity-the throne
Of the invisible; even from out thy slime
The monsters of the deep are made; each zone
Obeys thee; thou goest forth, dread, fathomless, alone.
And I have loved thee, ocean! And my joy
Of youthful sports was on thy breast to be
Borne, like thy bubbles, onward: from a boy
I wanton'd with thy breakers-they to me
Were a delight; and if the freshening sea
Made them a terror-'twas a pleasing fear,
For I was as it were a child of thee,
And trusted to thy billows far and near,
And laid my hand upon thy mane – as I do here.
Dive into this book and be swept away on a journey around our green and blue planet, from the peak of the snowiest mountaintop to the bottom of the deepest, bluest ocean. Meet the birds circling its skies, the beasts prowling its plains, and the people toiling in its fields and forests and cities… Explore all the worlds that make up our world, and hear the voices, past and present, that sing out from it. From haikus to sonnets, from rap to the Romantics, this joyous collection celebrates life in all corners of our beautiful planet.
This educational book will teach young budding ecologists about how our actions affect planet Earth and the big impact we can make by the little things we do.
It is a lively kid's educational book with fabulous illustrations and fun facts about the world broken into easy to digest bite-sized bits. Each page can be looked at in short bursts or longer reads for more detail, making it a great children's book for a range of age groups.
This environment book for children has a wealth of ideas for becoming a planet-defending hero:
-Discover shocking facts about the waste we produce and where it goes
-Learn where about our Earth's limited resources and how to take some pressure off
-Your trash is another man's treasure
-Small changes to take your home from wasteful to super resource efficient
-Dive into saving our oceans and super recycling
-And much, much more
A beautiful, lyrical story which explores the problem of plastic in the ocean, and the challenges facing marine life.
Little Turtle loves the ocean with her whole heart. As the years pass, she repeats an incredible journey across the world to the beautiful coral reefs. But one day she finds that plastic has invaded her beloved ocean. Could Turtle's journey be over forever?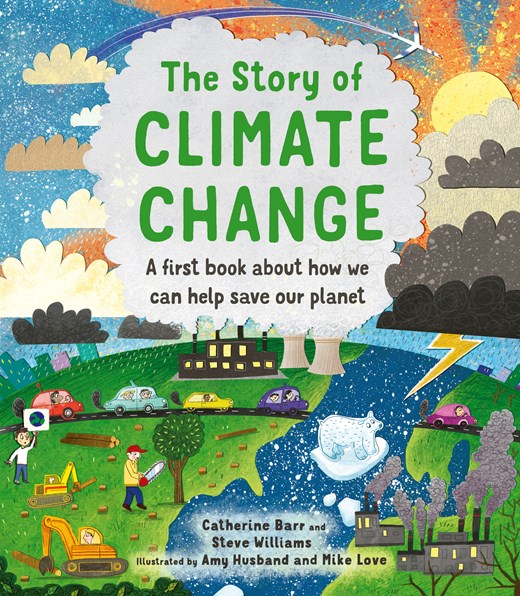 Combining history with science, this book charts the changes in our Earth's climate, from the beginnings of the planet and its atmosphere, to the Industrial revolution and the dawn of machinery. You'll learn all about the causes of climate change, such as factory farming and pollution, and the effects that climate change has on humans and animals across the world.

As well as discovering the effects of global warming, you'll discover practical ways we can work together to solve it, from using renewable energy to swapping meat for vegetables in our diet.

When Jane was little, her father gave her a toy chimpanzee named Jubilee. This inspired her lifelong love of animals, and she went to study them in the wild as soon as she could. Jane lived with chimpanzees in their natural habitat and became famous for her pioneering approach to research. She now educates the public on animal rights. This moving book features stylish illustrations and extra facts at the back, including a biographical timeline with historical photos and a detailed profile of the primatologist's life.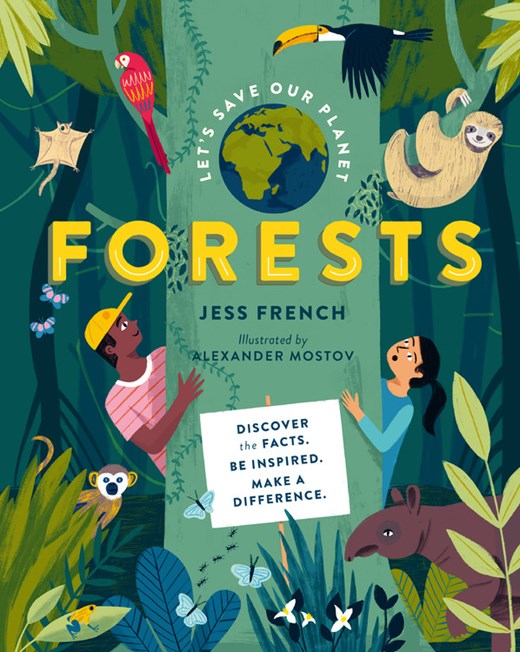 Do you want to make a difference and help change the world? If the answer's yes then this book is for you!
Turn the pages and discover everything you need to know about deforestation and the ways we can tackle it. From scientists and conservationists helping to protect forest creatures, to tech inventions like robot tree-planters, this book helps children aged 8 and up to discover the incredible solutions to deforestation that are being worked on around the world right now.
Readers can begin by exploring different forest types around the world, discovering what makes each of them precious and unique, before taking a look at the causes, effects and solutions to deforestation. The final section explores what readers can do to help. Filled with guides, tips and lessons in how to use your voice and change your habits, these pages help readers learn how they can make a difference.
Engaging text by Dr Jess French, presenter of Minibeast Adventure with Jess on CBeebies, with stunning artwork by Alexander Mostov, illustrator of D-Day: Untold Stories of the Normandy Landings Inspired by 20 Real-Life People